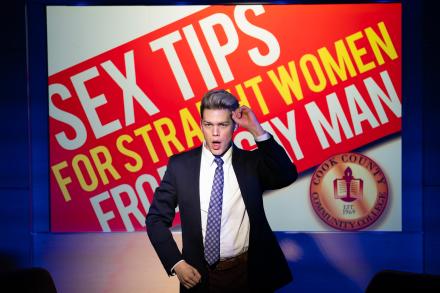 'Sex Tips For Straight Women From A Gay Man' has wowed fans in New York and Las Vegas and is now coming to the Fringe for the first time.
Hotly recommended as a Fringe show for dating couples this comedy turns the world of courtship upside down and inside out - when an author event in a university library becomes an interractive sex seminar.  
Writer Dan Anderson created the best selling book of the same name with the idea of letting straight women into the secrets of what really makes men tick.
Like a modern day Professor Higgins he asks: "Why can't a woman be more like a gay man."
Matt Murphy, creator of the theatrical version of the show, promises audiences a hilarious, thrill packed ride, where no topics are off limits. This upbeat, interractive take on romantic love for grown-ups is now Off Broadway's longest running comedy show.
Sex Tips for Straight Women from a Gay Man, Gilded Balloon – Patter Hoose (Venue 24), 5th to 28th August 2022 (not 10th, 17th, 24th), 9.30pm (10.35pm). Buy tickets here.
What is the last thing you do before you go onstage (apart from check your flies and/or check your knickers aren't sticking out of your skirt and check for spinach between your teeth)
As playwright/producer, I don't go onstage, so usually the last thing I do before I sit in the audience and watch the show is kindly ask the bar tender for a beer.  
What irritates you?  
When beer for the playwright/producer is not complimentary!
What is the most dangerous thing you have ever done?
Betting my friend how long I could drive a golf cart in the middle of the night, with the headlights off, along a narrow, tree-lined path in the woods. At full speed.  
What is the most stupid thing you have ever done? 
I could tell you, but then you'd need a lawyer too.  
What has surprised you the most during your career in comedy?
I've been surprised to learn over and over that if I find something funny, more often than not the audience will find it funny too.  
Interview continues here.