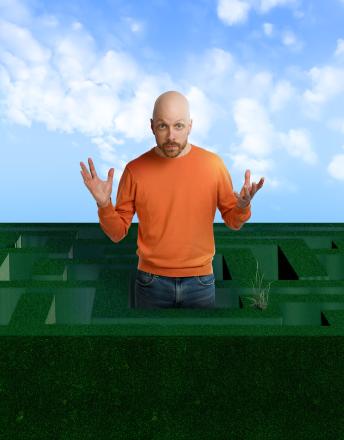 Italian comic Luca Cupani has won plenty of fans for his hilarious confessional style, since first stumbling into the Edinburgh Fringe as a visitor in 2014.
He won the Gilded Balloon contest for new comics So You Think You're Funny? in 2015 and has since been invited to the Just For Laughs Festival in Montreal and San Francisco International Comedy Competition.
Cupani, who is now based in London, has come a long way since his sheltered Italian childhood. His new show 'Happy Orphan' is about how happy he is to have escaped his conservative upbringing and to have found a new and fulfilling life in comedy.
A fan of American comedies since childhood, Cupani has an original, refreshing comic voice which brings the lightest of touches to challenging and emotional subject matter. He doesn't fit the Italian stereotype in any way - which he uses to brilliant comic effect in his highly original take on the important things in life.
Luca Cupani: Happy Orphan, Just the Tonic at the Caves, August 4 - 28, 14.20. Buy tickets here.

What is the last thing you do before you go onstage (apart from check your flies and/or check your knickers aren't sticking out of your skirt and check for spinach between your teeth)
I listen to Lose Yourself by Eminem (I'm a grown-up, so I listen to the explicit version with the swear words) because it puts me in the right mood and gives me the kick I need if I have low energy. And just before getting on stage, I do little jumps if the backstage allows for it:  sometimes the ceiling is so low that I can only jump in my mind.
What irritates you?  
The class system, because I think it is useless (unless you belong to a class on top) and I frankly don't understand it. When I meet someone I never know what class they belong to, but here in the UK, everyone seems to know exactly where to fit in this absurd system. And what is the class for someone who was born in another country? Is there a "foreign class"?
What is the most dangerous thing you have ever done?
When I was single I once had a one-night stand without using a condom (luckily I got tested later and it was all negative).
What is the most stupid thing you have ever done? 
Not use a condom when I had casual sex (see above).
What has surprised you the most during your career in comedy?
When I watch a clip of my first comedy sets I'm surprised because all I see are my mistakes, but I remember that at that time I thought I was ready. It is amazing how in the beginning my lack of experience was offset by a huge amount of confidence. However, now I'm definitely ready (ain't I?)
Luca Cupani Interview continues here
Luca Cupani Picture by Steve Ullathorne