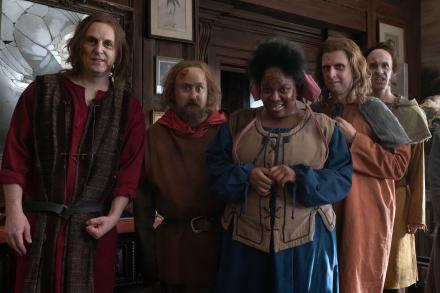 The fourth series of hit sitcom Ghosts starts on BBC One on September 23 at 8.50pm.
Mike and Alison welcome the first guests to their new bijoux B&B, determined to get a glowing review, whatever the cost.
Mary reveals she has never had a holiday, so Pat teaches her the joys and pitfalls of a week on the Costa Del Sol. The Plaguers have taken to idolising Thomas, since spotting Alison's fetching portrait of him in the basement. Thomas naturally assumes their obsession stems from a love of his poetry - much to the annoyance of the Captain, who challenges them to endure a recital.
Pictured here are: The Plague Ghosts - Walter (BEN WILLBOND), John (JIM HOWICK), Agnes (LOLLY ADEFOPE), Nigel (LARRY RICKARD).
Ghosts picture credit: BBC/Monumental/Robbie Gray