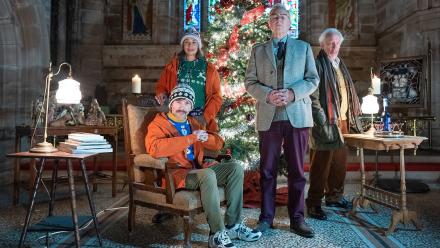 Steve Pemberton and Reece Shearsmith return with a special festive film from their award-winning anthology series Inside No. 9. Joined by guest stars Shobna Gulati and Simon Callow, they serve up a disturbingly spooky Christmas story set in a mysterious church. It has been confirmed by the BBC that it will be broadcast on Thursday, December 22 at 9pm.
The Bones of St. Nicholas
Dr. Jasper Parkway has booked an overnight stay in a reputedly haunted church on Christmas Eve. However, much to his dismay, he is soon joined by unwanted guests Pierce and Posy, who have even brought their own sleeping bags. Together with the eccentric warden Dick, it doesn't look like Jasper is going to be lonely this Christmas. Even though sherry, biscuits and Yuletide phantoms are on offer, why is Jasper so keen to be left to his own devices?
Inside No. 9 is produced by BBC Studios Comedy Productions for BBC Two and BBC iPlayer. It was written by Reece Shearsmith and Steve Pemberton, directed by George Kane and produced by Kim Crowther. The Commissioning Editor for the BBC is Gregor Sharp. The Executive Producers for BBC Studios are Adam Tandy and Josh Cole.
Watch the Inside No 9 trailer below