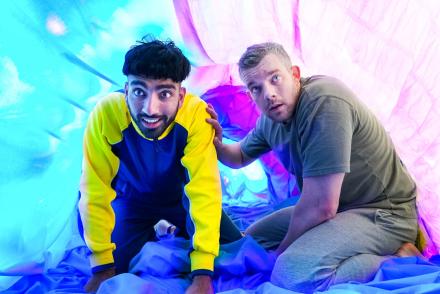 Live comedy fans will know Mawaan Rizwan from his madcap music/comedy live shows which mixed rap and riffs about his life and family. TV comedy fans will know Rizwan from his, shall we say, unconventional approach on Taskmaster. Now Rizwan gets a chance to put everything he is nuttily good at together in his crazily wonderful debut sitcom Juice which he has written and stars in.
Rizwan plays fast-talking, funny-walking Jamma, a chaotic, attention-seeking carefree soul who, in the first episode, thinks he is about to get a promotion in the marketing agency he works for. After all, the firm seems as wacky as him, complete with a ball pond in the open plan workspace. Outside work he has a relationship with Guy, played by Russell Tovey, who is a rather more sensible therapist. 
Things go suitably pear-shaped when Rizwan has to run a focus group testing out a new product and he gets his brother Isaac in to be one of the group – it's a bit sneaky but it makes up the numbers and also earns his bro a bit of dosh. It turns out, however, that laid back Isaac possesses the looks, charm and social skills that Jamma lacks and without even trying is soon having the success that Jamma has been dreaming of.
Those in the know will see real-life similarities there. His brother is played by real-life brother, actor Nabhaan Rizwan. Mawaan has previously talked onstage about how his mother became an accidental Bollywood star when he gave her a bit part in one of his YouTube clips, so don't be surprised if that subplot crops up in a later episode.
The show is entertaining already but the visual style of the show adds to the funny and reflect the tilted workings of the star's brain. There are surreal, trippy cartoonish elements that echo shows from The Young Ones to Red Dwarf and The Mighty Boosh. Characters, for example, start off in one location and then emerge through the ball pond in another. Walls move when you least expect them to. That's if you ever expect walls to move. 
At the heart though is Mawaan Rizwan, who is all-over comical from his page boy haircut to his day glo tracksuit. Juice is a terrific show and he squeezes every drop of funny out of it.
Juice is now all available on BBC iPlayer here.
Picture: BBC/Various Artists Limited/Liam Daniel)