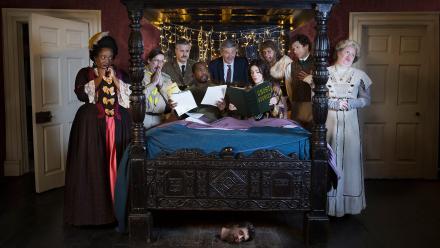 Ghosts' stars, writers and creators Mathew Baynton, Simon Farnaby, Martha Howe-Douglas, Jim Howick, Laurence Rickard and Ben Willbond return with six new episodes of the hit comedy, along with Lolly Adefope, Charlotte Ritchie and Kiell Smith-Bynoe,.
As we begin the series, while Alison and Mike search for new ways to keep Button House going after the gatehouse fire, they receive some unexpected news that will bring about major changes for them and the Ghosts. Elsewhere, the Ghosts investigate the mysterious details of Kitty's death, Pat is inspired to create some new entertainment for the gang when the Ghosts lose their appetite for Food Club, and after Robin makes an outlandish prediction the Ghosts contemplate their legacies.
Read interviews with the cast below
Ghosts Series Five starts on Friday, October 8, 8.30pm, BBC One
Charlotte Ritchie (Alison)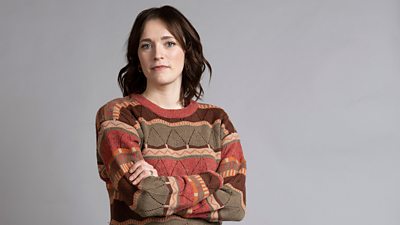 Alison (Charlotte Richie)

Alison is a lovely character. What are her best qualities, do you think?
Her strengths have always been that she's really resilient and very front-footed. She also seems to make the best of what she's got. I think she really perseveres, and she sticks with things. My only criticism would be that I think sometimes she indulges the ghosts too much!
That would certainly be Mike's criticism as well, wouldn't it?
Yes. If this was a very gritty drama, their relationship would be really on the rocks. He's unbelievably patient. But she's very kind. She is a lovely character to play.
Do you and Alison have a lot in common?
Yes. I find it actually hard to talk about Alison because in some ways I just feel really similar to her. I don't live with any ghosts or anything like that, but I have a lot in common with her. It feels quite natural. I worked with someone recently, and when their kids met me, they were like, "Oh, she is Alison" - which is a real compliment.
What are the particular similarities between you and Alison?
Our mannerisms. I don't feel like I'm playing a character. I feel like I'm just reacting truthfully a lot of the time. Obviously, it's exaggerated and I'm pushing it for certain effects, but she feels very human, despite being in a kind of cartoony world. I think that's lovely that they've done that. She's the straight person or the foil or whatever. But that means she also has emotional beats and real-life stuff to deal with.
What is the arc for Alison in this series?
It's a pretty big arc. She takes a new step into a different phase of her life with Mike. It's the end of an era as there's more responsibility involved. When something more serious happens to the two of them, that strangely sheds a light on the life that they've been living with the Ghosts. It slightly exposes how unsustainable it is. They were going from day to day thinking about how to get the next bit of money to continue to live there. Then suddenly that changes and they have to look a lot more long-term for the first time. Playtime is over basically.
Why you think the show has done so well all over the world?
It's very nicely tailored to everybody's specific history. Also, of course, it's still a comedy, and it's not trying to be anything more than that. But Ghosts is an antidote to the polarisation of the real world. It's an example of living alongside people that you don't agree with, and don't necessarily always love having to interact with. That is just how the world is. Unfortunately, it's the case that people really feel differently about things. Ghosts is a nice contained and safe example; no one has anything to lose by watching it. But you just see this nice little metaphor for different people living amongst each other and learning from each other.
Can you give us an example?
Lady Button living with Alison. They couldn't be more different, but there is such a tenderness in the way that Lady Button comes round and loves Alison, despite the fact that she represents everything that Lady Button thinks is awful. It's just nice. They have all sorts of clashes, but they have to get on with it. They have no choice. There is no exit route. They have to sit and talk. I think it's very cool. That must be good for lots of different cultures to explore.
How did you react to the end of Ghosts?
Basically, I was really emotional for the whole three weeks leading up to the end. It wasn't really the last day that did it to me – by then I think I'd pre-grieved! I think that phrase is from Succession, but I'm sure I coined it first! In some ways, it's cathartic to say, "OK, that's it. That's the end of the chapter." Strangely, you get used to that in this job. There are so many goodbyes that we have to see them as a good thing because otherwise, it's just too sad all the time.
Do you think it was the right moment to end it?
Yes, I do. I think the writers are really smart. They knew that it was the right choice. I think we just were just getting to the point where everyone was very comfy in their parts, and it was just the right point to finish. A lot of the feedback I've got from people has been that they think it's cool to quit while you're ahead.
Why do you think the writers work so well together?
Because they have very similar senses of humour, but also different leanings. I don't think they're egotistical people. They are real team players, and that really shines through. That means everyone gets their moment and they can compromise and collaborate. I'm always impressed by that. They are such good friends, I think that's a big part of it. They have such respect for each other.
Will you miss the team?
Absolutely. We've got such a strong bond. Actually, I really love them. They're great. They've become such close and good friends. It's a very unusual thing to get on with everyone for that long. They're so generous and funny and kind. When you spend enough time doing a job like that, it just sets the bar for what you want to establish on other jobs and what to expect. They set a great example. It's been such a pleasure.
Kiell Smith-Bynoe (Mike)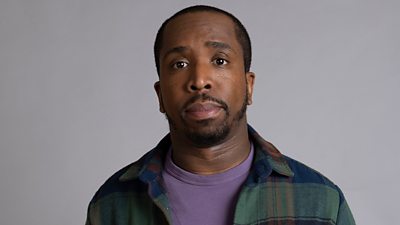 Mike (Kiell Smyth-Bynoe)

What journey do Mike and Alison go on in this final season?
They are still having money problems. They're still trying to find a way to be able to maintain this big old house, and Mike is constantly coming up with new ideas. But they're also thinking about their life and their future a bit more. They are wondering if Button House is right for them, and if all the hard work that they're doing is worth it. But by the end of episode three into four, Mike is fully on board with the fact that this is just how it is. This is how his life will be with his wife and the guys he can't see. He is just going to crack on with it. He's done trying to see what she sees or trying to imagine what it's like; it's just a way of life now. The main development is that they are thinking more about their life choices and what their future looks like.
Is it difficult not to react when you are in a scene with the ghosts?
Yes. it is hard. I do forget every time we go back in January. On that first day, when one of the ghosts says something and I react, I think, "No, no, no, no. Can't do that". It's hard, not just physically, but also because these are some of the funniest comedy performers in the UK. They are constantly trying to make each other laugh because they know that if they can make each other laugh, they will make an audience laugh. So, they are constantly trying to find the funniest thing, and it's ridiculous. But it's a lot of fun.
Is it sometimes a problem keeping a straight face, then?
Definitely, especially if you're in a scene with Jim Howick. Then, not to laugh is a challenge in and of itself. Sometimes it can just be a noise Jim makes. There is an outtake from series three or four where Pat hears something he's shocked by. He does a little shuffle. It's just the sound of his feet on the gravel. He knows it's funny, but his face stays completely straight as he's doing it. It's a real talent. It's a God-given gift, Jim's ability to make everything funny.
Is there good chemistry between the cast?
Definitely. We are not always all in together. So, there might be some days where we're missing a few, but the green room is constantly buzzing. No matter who's in there, whether it's three of us or all nine, it's constantly busy and chatty. There are so many anecdotes and stories. It's really fun. Those guys were already close because they had been working together for 12 years. It's really a great group to be around.
Were you very sad on the last day of filming?
I was actually and I didn't think I would be. But it was really emotional, realising that it would be our last lunch on the set of Ghosts, or it would be our last breakfast or coffee. Just because it's so busy on set, you don't really stop to think about those things until someone says it. And also, it has been our workplace for five years. For the last three series, we've always done it in January. It's really nice as an actor, of course, to have that stability, to know that you're starting the year with a big show with people that you still like and it's going to be a lot of fun.
Do you think this is the correct moment to bring the curtain down on Ghosts?
I could have done another series! No, I think it's good to be able to end on a high and on your own terms, rather than have the channel say, "We are not going to bring it back." It's also great to be able to write an ending, so that you feel the story is finished, rather than saying, "Oh, well, what would have happened next?" It's really good to do it at that point. But also, I feel like five series is a blessing. It's not often you get to the fifth series in a British sitcom. We only got three with Stath Lets Flats. It's really nice to have that many episodes and have those many stories told and get to be as silly as we did for that long. Despite it being the final one, I think this series has some of the best episodes that we've made. I think it's really consistently got better.
The ending promises to be emotional, doesn't it?
Yes. I think it's great. What the writers have done is really amazing. I did ask to watch the last few minutes of the final episode, and that didn't help my emotions! It's really brilliant.
How do you think people will respond to the final episode?
From beginning to end, I think it's made people laugh as well as maybe cry. It's also brought families closer together. I get stopped on the street by fans of Ghosts who are always telling me that it's the only thing that their kids will sit down and watch with them. Usually, teenagers are in their rooms, or younger children are playing computer games, and everyone is doing things separately. But Ghosts can bring everyone together. For that reason, I really hope that people will say that it's one of the best sitcoms they've seen.
Lolly Adefope (Kitty)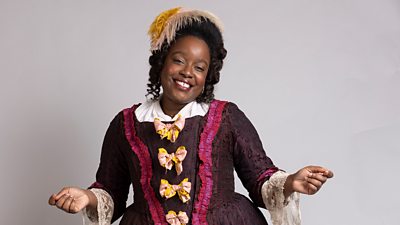 Kitty (Lolly Adefope)

Why are viewers so fond of Kitty?
I guess she's the baby of the group, and people feel quite protective of her, especially considering that she had didn't have the easiest time when she was alive. Despite that, she is this constant source of positivity. She has her tantrums and cries a lot as well, but she tends to be the optimist. She is always positive, and that's a very good quality. Especially around a load of cynical old fogies, you're going to need her buoyancy. Kids relate to Kitty the most, which is very nice to hear.
How would you characterise Kitty's relationship with Alison?
In the beginning, Kitty is a bit of a stalker, and then it develops into something quite sweet. I think Kitty has just been looking for a best friend and doesn't really have anyone close to her age in the house. So she sees Alison as the answer to all of her problems, but goes about it in quite an intense way but in the end Alison does start to love her back.
Why do you think audiences adore Ghosts so much?
The thing I get told most often is that it's the only thing that parents watch with their kids. The whole family watches together. It's got something for everyone. Also, I think during the pandemic it was quite a positive show for a lot of people and a nice distraction. It's got comedy, it can be emotional and at times it can be sad. It deals with a topic, death, that we don't really talk about that much, while balancing that with comedy. There hadn't been anything like it in a while. It's uplifting and emotional in all the right places.
It's a great ensemble of very watchable, very funny characters. It's just such a great premise as well. The fact that Alison is able to see the ghosts when nobody else can is brilliant. There is also always one character that every viewer relates to. Everyone has their favourite.
Pathos is also a key part of it, isn't it?
Yes. It doesn't shy away from the theme of death, which I think most comedies probably do. But it still has a lot of characters with a great deal of heart, and so never feels like a heavy-handed tragedy. It brings in those topics in a way that makes them fun to explore.
Were a lot of tears shed on the last day of filming?
I definitely cried. There were a lot of tears from all the cast and crew. I can't remember the last thing I did for five years. School was probably the last thing I did consistently for five years.
Why do you think that last day provoked so many emotions within you?
Because the show has been so well received. It's so rewarding and exciting to do a show that so many people love. I also think you form such a strong bond with so many people - obviously, with the cast, but also with the crew, a number of whom have been there since series one. It's just such a wonderful process. Everyone is just trying to make everyone else laugh all day long. It is just like a family. This is something that you do every day for months on end. It just becomes part of your everyday life, really. So, it did feel like it was going to be a big shift not doing it anymore.
Was it the appropriate moment to end the show?
Yes. Five is a great round number, and you never want to push something past its limits. Ghosts is so well loved, and you want to give it a proper send off. You have to make sure it finishes on the right note, rather than peters out to the point where people want it to end.
How do you hope viewers will react to the conclusion of Ghosts?
I hope that they'll find the ending very meaningful and emotional and a suitable end to five series of a show that they've loved. Even if people didn't want it to end, hopefully they'll see the ending as a fitting tribute to the ethos of the show.
The writing team have been together for a long time. What makes their work so special?
They put so much heart into it. They have all got families of their own as well, and I think they make something that they would want to watch with their families. Interestingly, even though it is a group of six writing together, it never really feels like too many cooks. It just feels like they've just got so many amazing ideas. They also act as well as write, which I think helps because they know how to write for themselves, and they know how to write for other performers as well. It's not just the writers hoping that an actor will make their words come to life. As a writer-performers, they know exactly how a character should be, which I think makes the characters really well drawn.
Can you expand on that?
They have nailed their tone, which is a great blend of comedy and tragedy. They create such a wide breadth of characters as well, which means that it's always fun to watch and that you're never bored. There's always something going on because they just so much put into it and there's so much talent involved.
More interviews with the cast here.