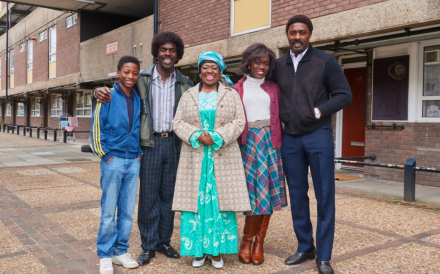 It's more likely that when you think of Idris Elba these days you think of him being rumoured to be the next James Bond than as a comedy star. If he is in the running for 007 it is for his hard man roles in shows such as Luther than for his soft-hearted role in this returning comedy loosely based on Elba's own East End 1980s childhood. 
The third series kicks off with a bit of a change Walter (Elba) and his brother Valentine (Jimmy Akingbola) have to be on their best behaviour because their mother (Ella Thomas) has come to visit from Sierra Leone. After the usual culture shock of contrasting London with West Africa mum's main mission is to make sure that wastrel Valentine gets married. Cue much merriment and matchmaking.
In The Long Run has an interesting tone. It doesn't really have a classic sitcom feel, despite the Only Fools and Horses council estate milieu. But neither is it a harder-hitting comedy drama. There are hardly any references to racism in the episodes I've seen, which is certainly not how I think of London in the 1980s. Instead Elba and his writers have remembered the good times, and in fairness there were were probably plenty of those too. It certainly seems like a simpler era.
The main laughs come courtesy of the antics of Walter's friend Bagpipes, played by Bill Bailey. The nickname comes from a mysterious event in the past, possibly involving a hoover, which is never specified - a bit like Uncle Bryn's fishing trip with Gavin & Stacey. And funnily enough one of Bagpipes' set-pieces here happens on a fishing trip when he ends up in a lake.
The resulting dice-with-death dunking makes Bagpipes decide to go on a health kick, though jogging around the estate seems to be not without its risks. And his eating isn't likely to prolong his life either, with wife Kirsty (Kellie Shirley) trying out some unusal fusion cuisine on him. "Caribbean, Nigerian, Welsh." Bagpipes is not impressed: "I think it might be one influence too many." 
In The Long Run looks like it was fun to make and certainly gets the look right - you can almost feel the static coming off those nylon jumpers. It's good to see Elba stretching himself, although at times he seems to be taking a back seat to the likes of Bailey and Akingbola. Madeline Appiah as his wife Agnes also looks like she has a bigger role this time round, getting involved a new building development for the estate. In The Long Run is not the funniest comedy you'll see this year, but it might be the most feelgoodest. If there isn't such a word there should be just for this.
In The Long Run, Sky One, 10pm, Thursday, July 23 and available as a boxed set on Sky and NOW TV straight after broadcast.