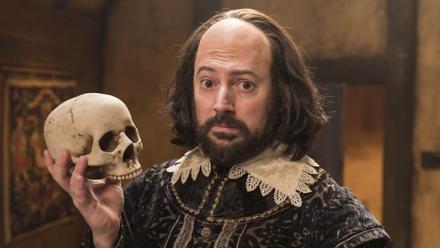 Ben Elton's eloquent defence of the mainstream sitcom last month was illuminating, fascinating and persuasive. And in a way maybe it could be seen by some as an incidental pre-emptive strike against critics who might have their hatchets sharpened for the new series of Upstart Crow, Elton's popular sitcom about Shakespeare's early years starring David Mitchell.
If that is the case though Elton needn't worry. The only thing he has to live with here is critics trotting out the "not-as-good-as-Blackadder" line. And of, course, not many sitcoms are as-good-as-Blackadder, but because this has a historical setting and Elton co-wrote the Rowan Atkinson classic comparisons are inevitable.
And while it is always going to be in that shadow, it does at least see Elton finding his comic muse again after the disastrously received The Wright Way. In the first episode of the second series, The Green-Eyed Monster, the "oik of Avon" wants to get his own coat-of-arms to get social acceptance. This, however, means sucking up to the odious Master of Heralds Sir Robert Greene, who is played by the ever-brilliant Mark Heap.
Elton certainly knows how to weave a plot together. The episode also finds room for a loose rewrite of Othello, with Moorish nobleman Otello (Steve Toussaint) coming to visit and aspiring actor Kate (Gemma Whelan) passing herself off as a posho. In the original Othello, there is some business with a hankie. Here there is some business with a "bogey wipe".
There are chunks that do feel a little like stand-up routines – a swipe at Big Brother for example or an aside about black actors in leading roles – but the dialogue certainly has its fair share of laughs as Elton attempts to create his own version of Shakespearean English. And a nice running gag is the bard nicking other writers' lines, hoping that they are out of copyright, but not too bothered if they aren't.
The supporting cast is good too, even though some don't have much to do. Tim Downie plays Kit Marlowe, Helen Monks is daughter Susanna, Liza Tarbuck is wife Anne, Paula Wilcox is mum Mary and Rob Rouse is servant Bottom. Harry Enfield is a bit underused as Will's Albert Steptoe-ish dad John. In fact there's a Steptoe & Son vibe about the whole thing, with the young Shakespeare having ideas above his station like Harold Steptoe and dreaming of escape but not quite making it (not yet, at least). 
With Noel Fielding and Emma Thompson guesting in future episodes there is lots to look forward to here. Not as good as Blackadder perhaps, but far better than most comedies on TV at the moment. And educational too. Very Moorish. Sorry, more-ish. 
Upstart Crow, Mondays from Sept 11, BBC2, 8.30pm. Or watch the full series now here.